Performance, comfort and quality. Guaranteed. At the best possible price.




INFORMATION COVID-19 Our delivery times may be longer for some products. For any question about shipping times, please contact-us with our contact form

Information: We will be closed from August 8 to 16. No shipping will be assured during this period.
Beautiful summer to all!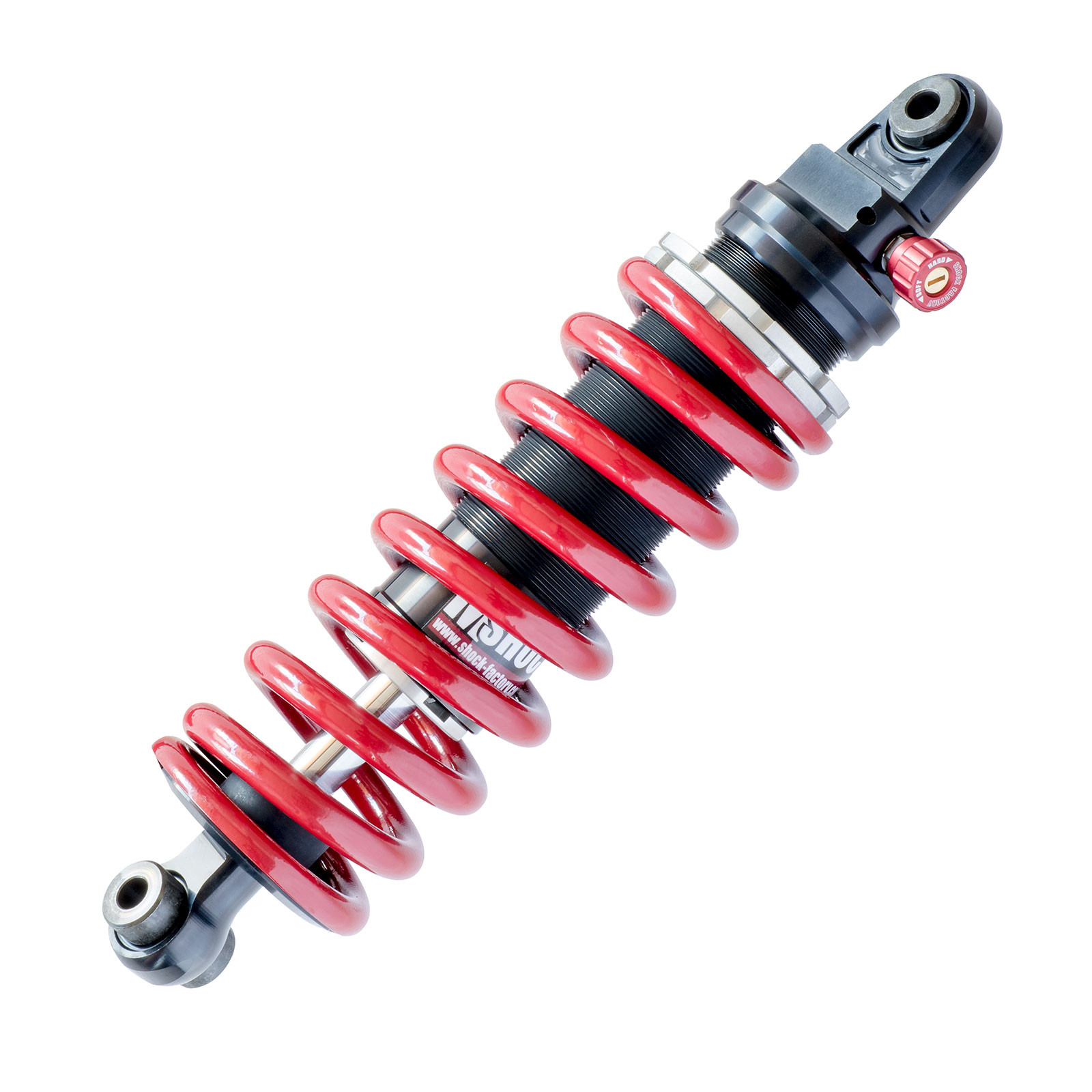 Non-contractual picture
2 years warranty, unlimited mileage

Free delivery

SSL Secured Payment
M-SHOCK
Tax included
delivery incl.
The M Shock is a fully adjustable monoshock. Spring preload is adjustable with the supplied C spanner. A single damping adjuster controls both compression and rebound keeping the correct ratio between the two. Damping adjustment is very easy.
Too soft? Add a click or two from the 48 click range and feel the difference.
Too firm? You can soften the damping as you wish.
Usage of my bike
Adjust sliders according to the use of your motorcycle. We'll preset your shock absorber with your informations. If you do not know which value to select, we advise you to choose the value immediately higher than your estimates.
100% solo
90% solo / 10% duo
80% solo / 20% duo
70% solo / 30% duo
60% solo / 40% duo
50% solo / 50% duo
40% solo / 60% duo
30% solo / 70% duo
20% solo / 80% duo
10% solo / 90% duo
100% duo
Mixte
No or little luggage
Luggage from time to time
Often well loaded
40 kg / 88 lb
50 kg / 110 lb
60 kg / 132 lb
70 kg / 154 lb
80 kg / 176 lb
90 kg / 198 lb
100 kg / 220 lb
110 kg / 242 lb
120 kg / 264 lb
130 kg / 287 lb
140 kg / 309 lb
150 kg / 331 lb
160 kg / 353 lb
170 kg / 375 lb
180 kg / 397 lb
190 kg / 419 lb
200 kg / 441 lb
210 kg / 463 lb
220 kg / 485 lb
Comfort
Designed for road use, the M Shock has progressive damping which soaks up the small bumps but remains powerful enough to deal with the bigger hits.
The progressive damping also helps hold a line over poorer road surfaces making your machine more precise and safer to ride.
Quality
Each and every component and technique used to manufacture the M Shock is chosen to maximise reliability and long life.
Every single shock is tested on one of our Roehrig shock dynos and the damping curves for each unit are saved against the shock's unique serial number.
Top quality components, materials and surface treatments together with our long experience guarantee a long lasting product with an excellent performance.
Garanteed
All of these features enable us to offer a two year guarantee with unlimited mileage. Our after sales service offers rapid servicing and repairs. See here for details of our guarantee.
Price
How do we manage to offer such a quality product à this price?
Our experience in conception, design and manufacturing enables us to minimise costs without compromising the quality of our shock absorbers.
Our philosophy is firstly to privilege the product and then to eliminate any unnecessary costs